GC-DWC Haiti Radio Programs
Radio Distance Learning
When COVID-19 necessitated school closures in Haiti in March of 2020, educators and actors had to work quickly to maintain student learning during the crisis. Haiti's current distance learning program is primarily online; however, only 40% of Haitian households have access to a power source, let alone a reliable internet connection (USAID 2018), that would enable them to use the program.
Recognizing radio as the most democratic and effective means of disseminating learning materials in Haiti during COVID-19, the University of Notre Dame's Global Center for the Development of the Whole Child Haiti (formerly Alliance for Catholic Education [ACE] Haiti), in collaboration with Catholic Relief Services Haiti (CRS) and the Episcopal Commission for Catholic Education (CEEC), created four radio programs - a literacy program supplemented with a reading hour program, and a pre-K social and emotional learning (SEL) and parent engagement program, and another pre-K program that complements the current, school-based early childhood development (ECD) curriculum - as part of a comprehensive approach to distance learning in a low-tech environment.
We invite you to explore the complete collection of episodes from all three programs below. Within each page, you will find additional information on the specific program and have the opportunity to listen to a sample of the episodes and navigate to the complete episode library in Google Drive for free download. For more expedient download, you can access the entire library here.
---
Explore 36 different literacy lessons with accompanying comprehension worksheets, available in French and Creole!
Pre-K/Parent Radio Program
Explore our 18-episode series for Pre-K students and parents. These episodes feature a new SEL theme every week and include read-alouds, wiggle times, and a parent question-answer session!
Join our readers for new stories every week in Creole. There are 12 episodes total with 24 stories to explore!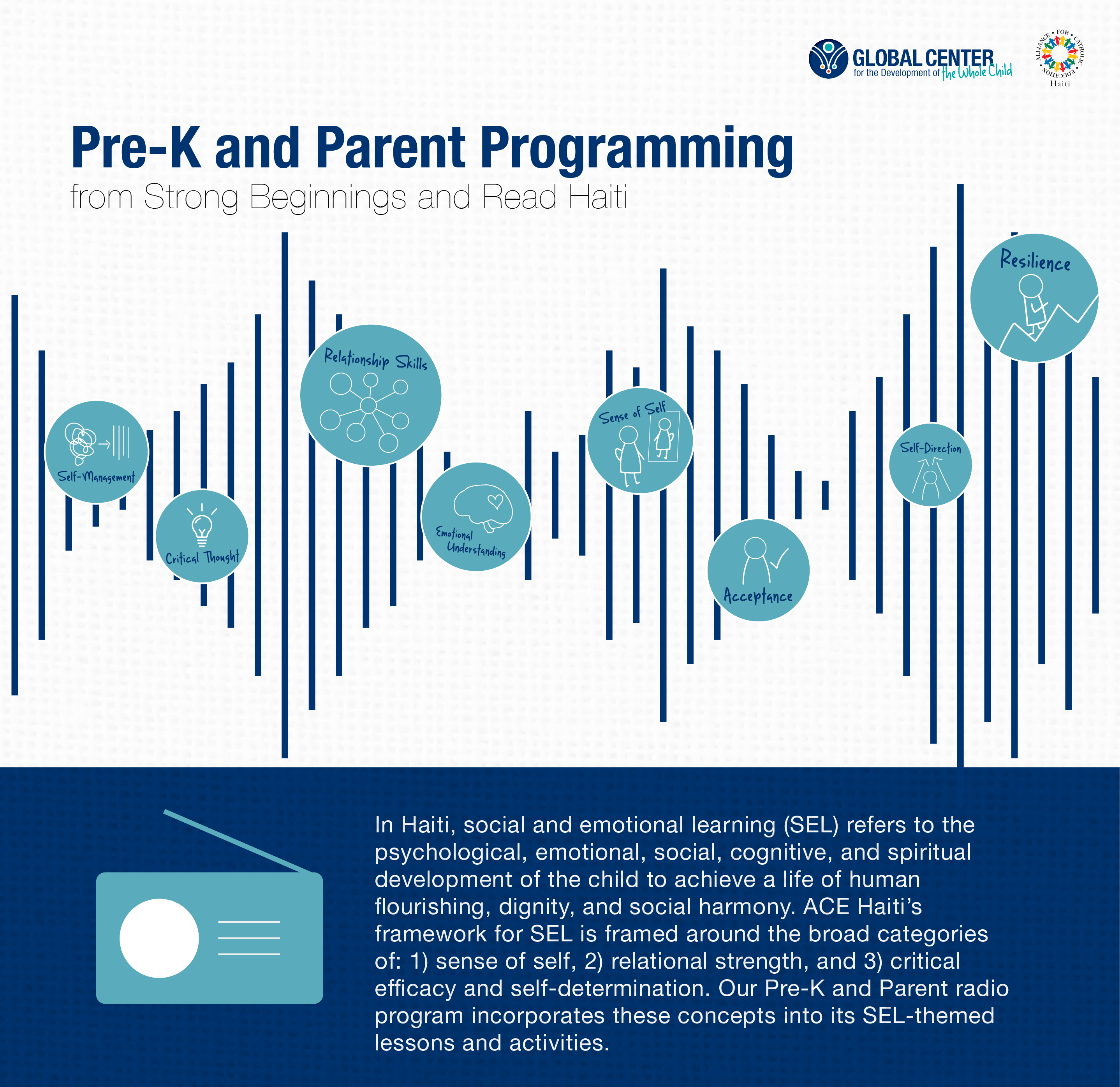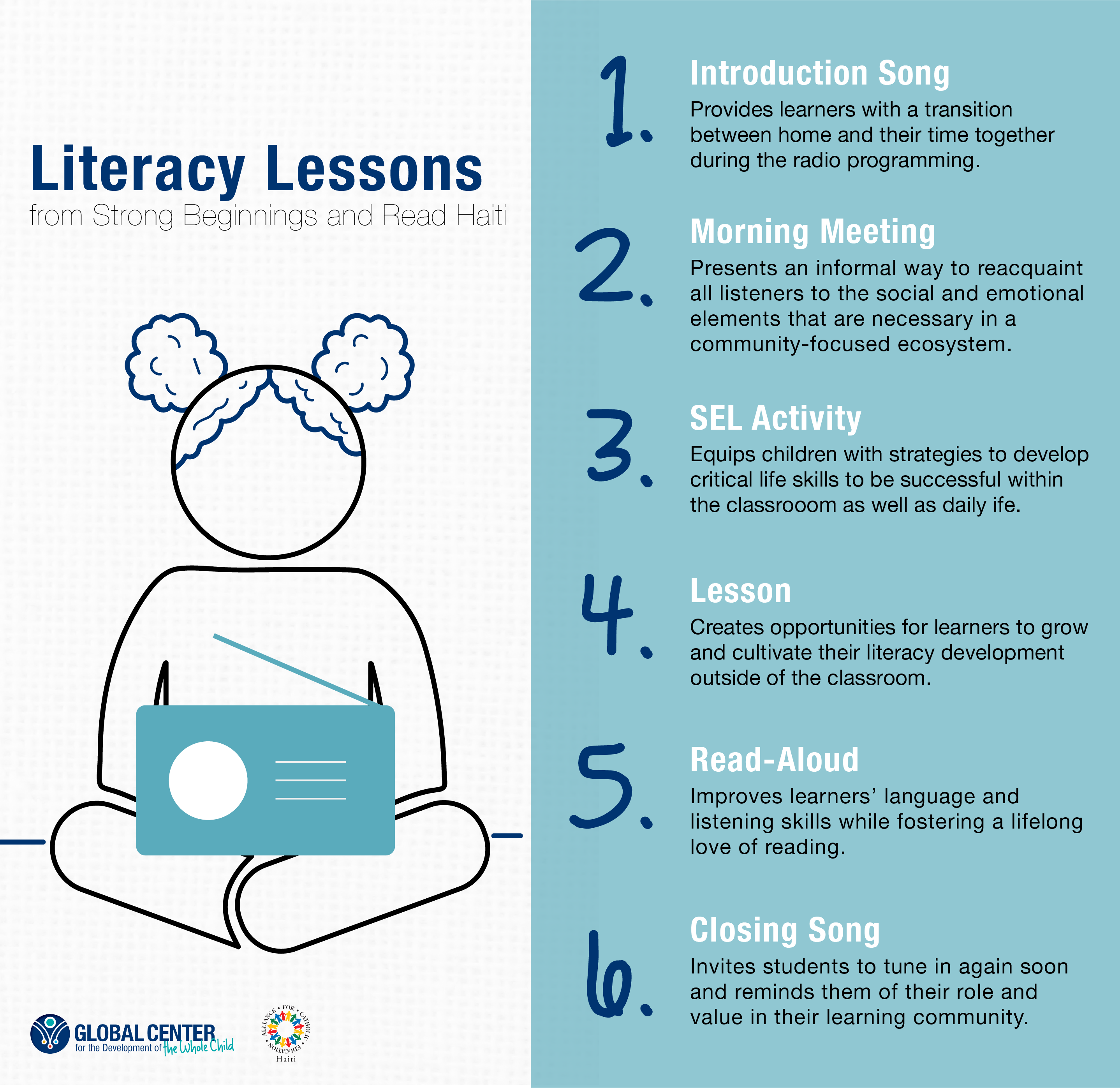 ---
For more information, please contact the Read Haiti/Strong Beginnings Team:
Kate Schuenke-Lucien, Director of Haiti Initiatives: kschuenk@nd.edu
Tamara Doucet-Larozar, Associate Director of Language and Literacy Education: tdoucetl@nd.edu
Michael Berino, Associate Director of ProjectAssociate Management: mberino@nd.edu
---
In the wake of political unrest and COVID-19, Haiti's school children will have missed 60% of their scheduled school days in the 2019-2020 school year. To learn more about the GC-DWC's response to COVID-19 in Haiti, please visit our COVID-19 response page.
---
Acknowledgements
A special thank you to our partners and donors who helped to make these radio programs a reality.
            An Anonymous Foundation
Thank you as well to the creative artists who brought these radio programs to life through their music and stories:
ARB Music World Children's Songs, Monde des Titounis, Les P'tits z'Amis, Little Angel - Français!, Jeescreation, Blue Butterfly/Lakou Kajou, EducaVision, Maison Henri Deschamps / Editha, Les Éditions Haïtiennes
---
Connect with Us