Bridging Research and Practice
What do we do?
In our "dig-in deep," or flagship country programs, we begin with a limited number of innovation school communities where we support partners with program design, training, and rapid assessment methods. This incubation period is followed by a limited scale-up to early adopter school communities; in these communities we invest in promising practices and prune less-effective ones. We conduct formal efficacy studies and randomized control trials when Whole Child Development (WCD) approaches are sufficiently mature, followed by evidence driven scaling system-wide. This research-to-action cycle comes full circle through dissemination of our learning through technical and non-technical resources, prioritizing the use of this learning by our community partners.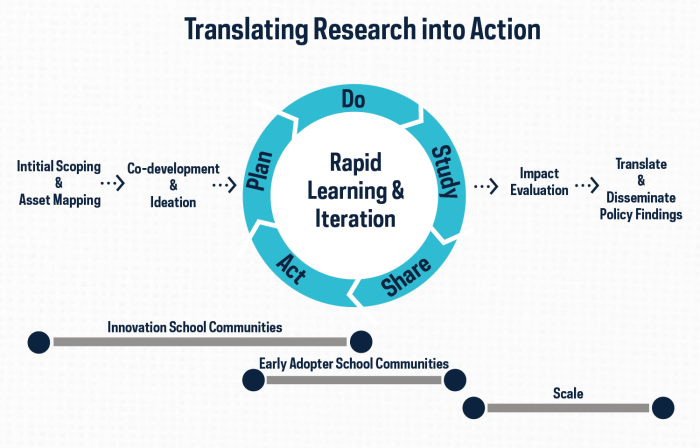 We also undertake applied research projects to build the evidence base on WCD. These education research projects are focused on different settings and relationships around the child but they all have a common focus: how do we activate the system around the child to best support WCD? Our research is driven by three key principles. 
Appropriateness: whether findings meet the contextual, cultural, and developmental needs of children and their families.

Utility: whether research will be useful to make reasonable decisions about an education or social program for children.

Feasibility: whether the proposed evidence-based solution is doable given the logistical, operational, and systematic limitations that are in place.
Who are our partners?

We partner with a range of governmental and non-governmental organizations within the community, regional, and national education systems in each country. We look to build long-term partnerships that are characterized by joint learning goals, shared capacity development, and commitment to iterate on programs for children.

Faith-based communities play an important role in the provision of education globally, with enrollment projected to grow rapidly in low- and middle-income countries (LMICs) over the next decade. Given the University of Notre Dame's Catholic foundation, the GC-DWC is uniquely positioned to advance faith-based partners' research and program learning priorities. We are currently supporting Catholic parishes from Haiti to Kenya to embed WCD models of education into schools, homes, and communities. However, we engage with a multi-faith coalition of partners devoted to improving the outcomes for all children, including the Federation of Protestant Schools of Haiti, the Anglican Church in Kenya, Catholic Relief Services, World Vision International, and Arigatou International.  
Where we work
The GC-DWC is involved in 26 countries: Bangladesh, Cambodia, Colombia, Democratic Republic of Congo, Dominican Republic, Egypt, El Salvador, Ghana, Guatemala, Haiti, Honduras, India, Indonesia, Kenya, Liberia, Malawi, Mexico, Mozambique, Peru, Philippines, Rwanda, Senegal, Tanzania, Uganda, Uzbekistan.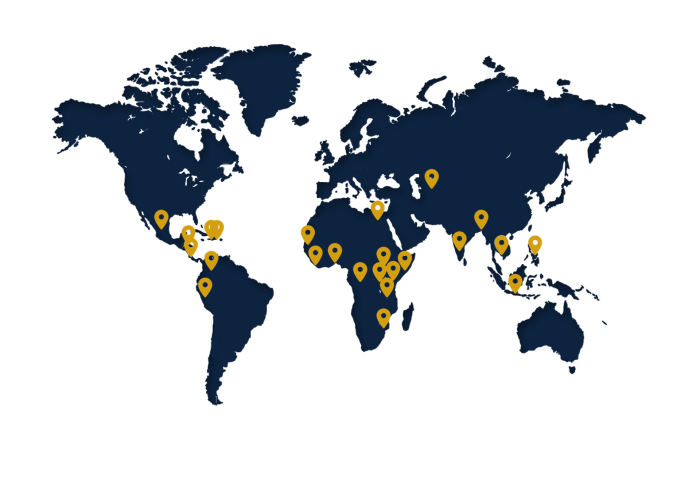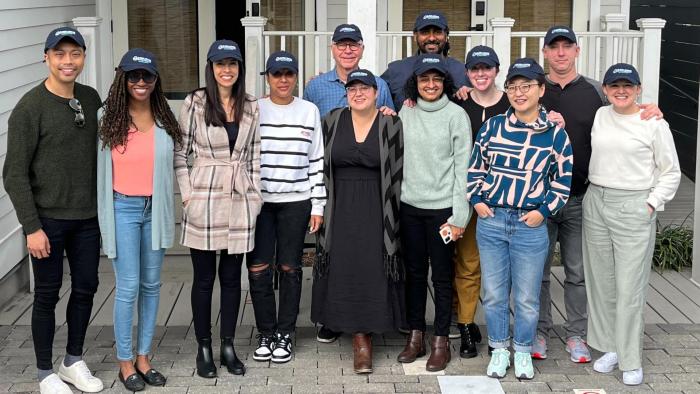 Our Team
With team members located all around the world and speaking over 20 languages between them, the GC-DWC's team is a multidisciplinary and diverse group. Most team members have academic as well as practitioner-focused backgrounds which brings a unique perspective to the implementation and evaluation of Whole Child Development research and programming.