Vision
A world where children, despite adversity, are able to reach their full potential, ensuring a better future for themselves and their communities.
Mission
To create pathways out of adversity for the world's most vulnerable children, leveraging science-based innovations and a whole child development approach.
Our Story
Drawn to the Institute for Educational Initiative's (IEI) long-standing commitment to create pathways out of adversity for large numbers of children and adolescents, the Fostering Resilience Initiative moved to the University of Notre Dame in 2019 and quickly established the Global Center for the Development of the Whole Child (GC-DWC). Since then, the GC-DWC has expanded its reach to 26 countries conducting over 10 research projects and programs. Buoyed by the University of Notre Dame's commitment to the common good and Catholic character, we emphasize community-based approaches to activating whole child development, which is reflected in our partnerships with schools, communities, and parishes around the world. Since we specialize in a holistic approach to child and adolescent development, our dedicated team combines innovative research and measurement methods in addition to global collaborations, to assess and address risks and assets at the child-level in order to create environments that go beyond simply fulfilling children and adolescent's basic needs. We create environments that foster resilience and encourage children and adolescents to thrive.
Adversity and Resilience
43% of children younger than age 5 in low-income and middle-income countries are at risk of not attaining their developmental potential because of extreme poverty and stunting (UNICEF, 2019).
1 billion children have experienced physical, emotional, or sexual violence or neglect in the past two years (WHO, 2019).
Exposure to chronic danger and prolonged neglect can be more disruptive to a child's developing brain than physical trauma (Shonkoff et al, 2016).
Recognizing the realities that children and adolescents around the globe face, the GC-DWC is a global force in designing, evaluating, and improving programs and policies for children and adolescents.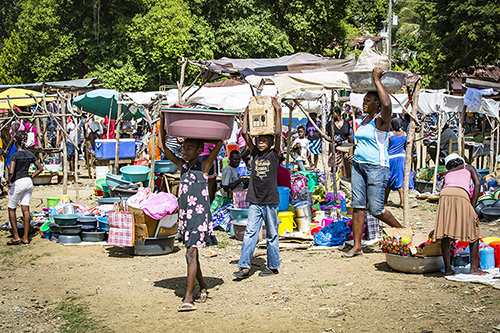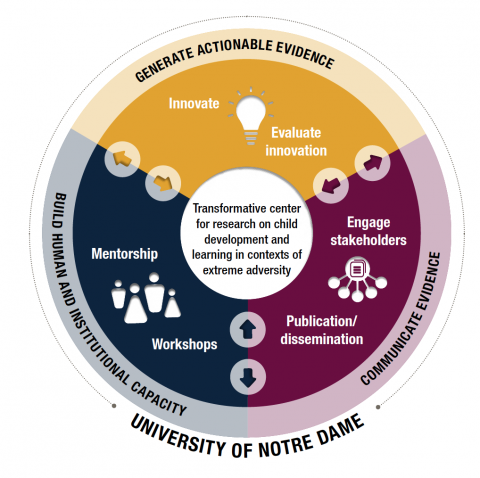 Our Framework
To achieve our mission, the GC-DWC core team works with strategic partner organizations to leverage cutting-edge scientific methods and interdisciplinary collaboration to:
Generate actionable evidence by conducting and evaluating innovative strategies to transform households, schools, communities, and other core drivers of children's learning and well-being;
Communicate actionable evidence by engaging key stakeholders and disseminating rigorous evidence to inform program and policy decisions for children in adversity;
Build human, administrative, and institutional capacity for a robust global science and practice through the provision of professional development, training, and mentoring programs.
Where we work
The GC-DWC is involved in 26 countries: Bangladesh, Cambodia, Colombia, Democratic Republic of Congo, Dominican Republic, Egypt, El Salvador, Ghana, Guatemala, Haiti, Honduras, India, Indonesia, Kenya, Liberia, Malawi, Mexico, Mozambique, Peru, Philippines, Rwanda, Senegal, Tanzania, Uganda, Uzbekistan.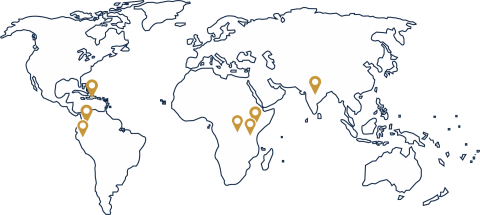 Our Team
With team members and partners located all around the world, the GC-DWC's team is a multidisciplinary and diverse group. Since most team members have academic as well as practitioner-focused backgrounds, we bring a unique perspective to the implementation and evaluation of Whole Child Development research and programming. 
We are also privileged to have the support and expertise of numerous other colleagues at the University of Notre Dame and around the world.