Building Pathways out of Adversity
Our goal is to create pathways out of adversity for the world's most vulnerable children. In 26 countries, we leverage evidence-based innovations to develop effective Whole Child Development (WCD) approaches to not only advance children's academic achievement, but also create safe, supportive, and equitable family, school, and community environments. 
Working with partners across the research-practice-policy spectrum, we iteratively develop and test WCD approaches, translating evidence into impactful programs. Our approach focuses on the relationships and settings that are most important in the lives of children and youth. By aligning knowledge, attitudes, practices, and policies within and across these settings – like the home, school, and community – we focus on how to best activate the systems which foster resilience and justice for children. We then use this learning and knowledge to advance policies which improve the lives and outcomes of children.
Why Whole Child Development (WCD)?
Poverty is complex and comprehensive strategies are required to address these complexities. Our WCD approach is a proven, cost-effective investment, to ensure the education, health, and prosperity of individual children, and empower their families and communities to be agents of change: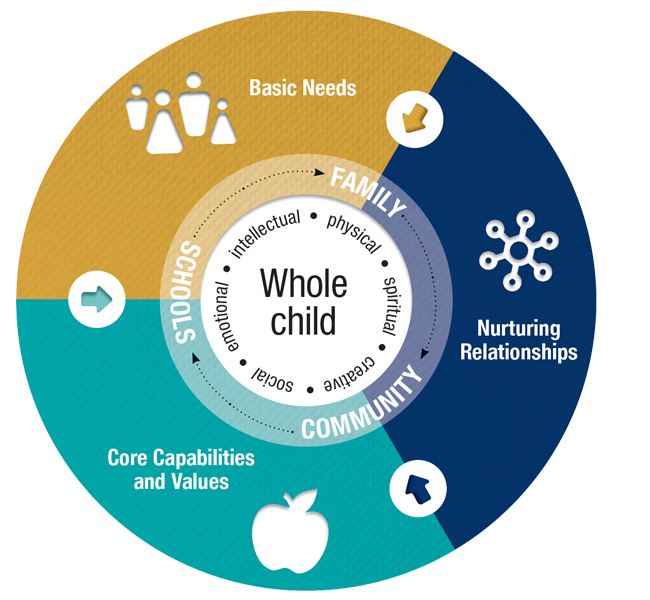 Children's development happens in different spaces, simultaneously including family, school, and the wider community.

The quality of relationships in each of these environments matters.

When we invest in multi-sectoral solutions including  health, nutrition, education, and protection, we support the holistic development of children.

Investment in WCD approaches is critical for children growing up in poverty and other forms of severe adversity. 
Together, we can build environments where all children can reach their potential and become responsible citizens and life-long learners.