Lessons in Literacy // Social Justice Poetry in the Middle School Classroom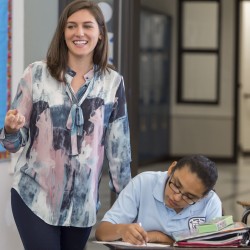 Darby Evans works as the associate program director at the Center for Literacy Education. Darby taught English and literature to grades 6–8 in Fort Worth, Texas as a member of the ACE Teaching Fellows, and went on to teach middle school ELA in Harlem, New York. She especially enjoys teaching poetry units, promoting diverse authors who write multicultural texts and incorporating pop culture media in her teaching. 
In this installment of the Lessons in Literacy series, Darby shares a project she implemented with her students during National Poetry Month. Teachers periodically contribute to the Lessons in Literacy series on the CLE blog. Through this series, teachers share their classroom successes and innovative ideas. 

Throughout our study on poetry, the eighth-grade students in my English class at All Saints Catholic School heard that poetry can be a vehicle for social change. Poems are charged with emotion and often inspire people to action. So, we studied the techniques poets use to create powerful, moving messages with the hopes of applying those principles to our own compositions. Additionally, All Saints students studied Catholic Social Teaching throughout their three years in middle school. Grounded in this philosophy, students were asked to grapple with a few questions throughout our poetry unit: "Where, in my home and community, are people being treated poorly? How can I speak out against this injustice?"
The project outlined in this post is a performance assessment, a summative task assigned at the end of the poetry unit. When we began this project, my eighth graders were already adept at identifying and composing various figurative language devices, sound devices, and poetic structures. The final product was a blog where students learned to post their poems and share their messages in the hopes of improving the world around them. 
*An important note: While this project was adapted for the purposes of my classroom and has my fingerprints upon it, it is the true brainchild of English educator extraordinaire Mary Grace Mangano! Many thanks to her for sharing her genius.
Grade(s): 7-8
CCS Standards:
RL.8.1, RL.8.4. RL.8.9
RI.8.2, RI.8.8
W.8.3B, W.8.3D, W.8.4, W.8.5, W.8.6, W.8.7

 Activity highlights:
1. Before writing their own poetry, students examined examples of social justice poetry and researched local and national issues in the news. First, students analyzed @ the Crossroads—A Sudden American Poem by former poet laureate Juan Felipe Herrera (CCSS RL.8.1, RL.8.4. RL.8.9).
2. Then, students read articles from Newsela.com, and each chose a topic he or she felt especially passionate about (CCSS RI.8.2, RI.8.8, W.8.7). Armed with this knowledge, students set about becoming social justice poets themselves, or rebels with a cause.
3. Students had to write a poem that expressed their opinion and also showcased their knowledge of poetic techniques. Their intentions were evident in the author's explanation that accompanies each poem; here, the young authors explained what emotions they wanted to elicit in the reader through their literary decisions (CCSS W.8.3B, W.8.3D, W.8.4, W.8.5).
4. Finally, students published their work on a Wix blog. Because it is the first time many of my eighth graders used this type of technology, I scaffolded by creating the home page and individual blank blog posts before students accessed the site (CCSS W.8.6). Here, I subtly taught my students digital citizenship—I helped them learn how to voice their ideas online, and I emphasized that those messages should be positive and empowering!
5. Using a rubric, I assessed if students can successfully convey their societal critiques using the particular poetic devices we studied throughout the unit.
*Read my students' incredible poems here!!
The theories behind this activity:
The social justice poetry activity is carefully crafted with culturally relevant pedagogy (CRP) in mind. My students at All Saints were predominantly Mexican-American students from immigrant families; a few students were African-American. We intentionally read multicultural texts from poets of color who spoke out on behalf of their communities—Maya Angelou, Juan Felipe Herrera, Nikki Giovanni, to name a few.  I want my students to hear themselves in the lines we read, to feel that their voices too can be heard, to imagine that poetry can become their own platform.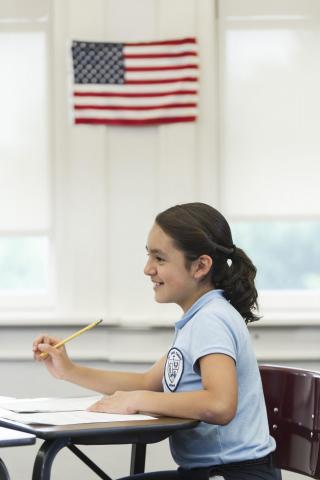 Several other educational theories inform this activity, such as critical social theory, digital media literacy, and Catholic Social Teaching, but the reason I love our social justice poetry project is that it promotes student voice and choice in so many ways. Eighth grade is a time when students are just starting to realize their powers as individuals; developmentally, they begin to think more abstractly and analytically than they do in sixth or seventh grades. They are brimming with opinions! They are so eager to share their opinions in verse, and they become invested in their poems because they choose the issue they want to write about (Morrison 2008).
In 2017, several of my students chose to write about the travel ban President Trump instituted as he took office. Many of them had parents or grandparents who risked everything to cross borders and build better lives for their children, and my eighth graders wrote stunning poems expressing the emotion that migrating entails. Because my students had the autonomy to write about an issue that had personal significance to them, their overall performance on the assignment was impressive. I find their work deeply moving, and I still reread many of their poems today.
Happy Reading,