The Haitian Context
Resources
A deep commitment to understanding the richness and intricacies of Haiti's culture and history drives GC-DWC Haiti's daily work. Learn more about how Haiti's history impacts our work and has led to our multidimensional, systems activation approach to programming in the graphic below.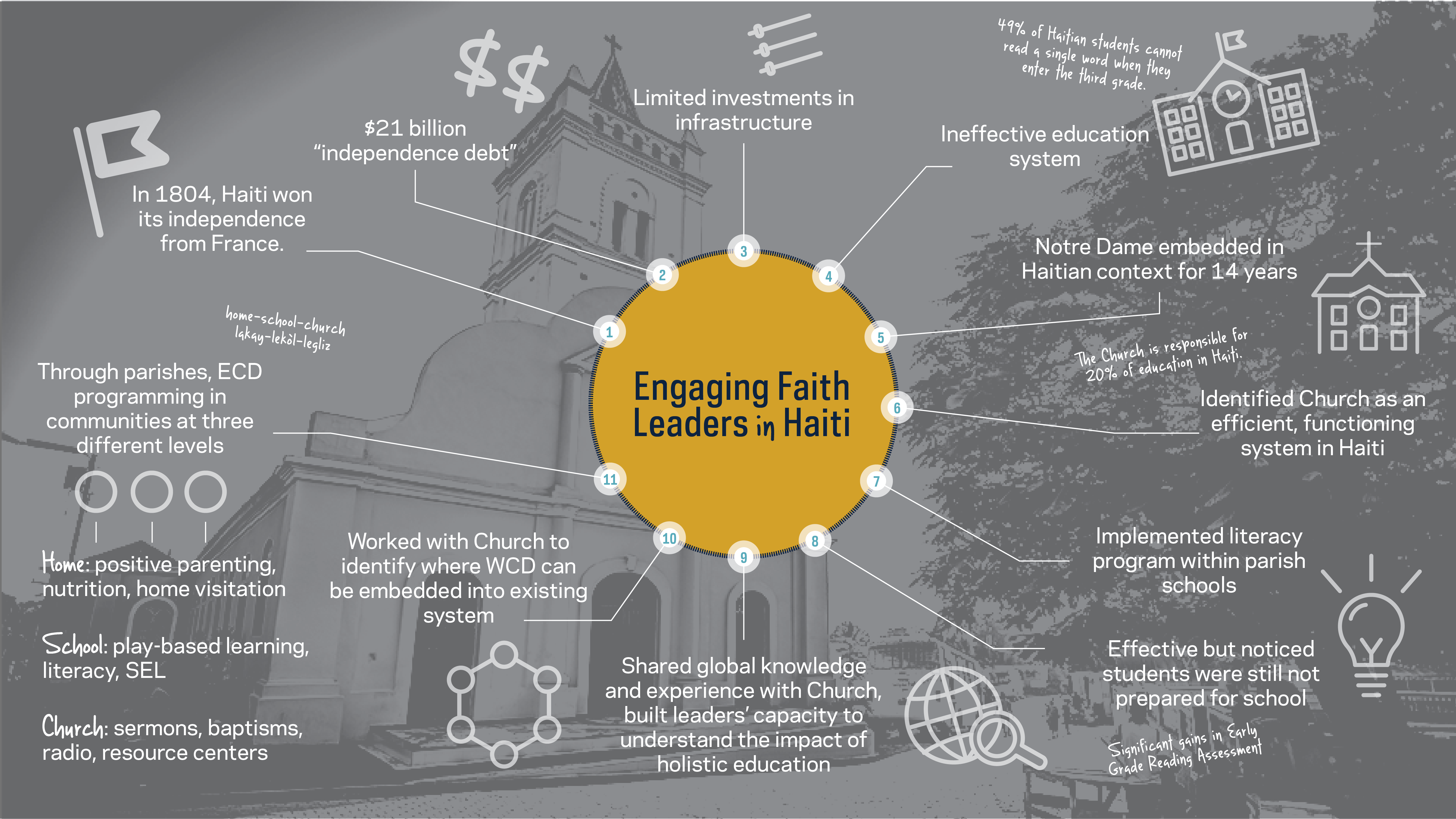 In 1804, Haiti won its independence from a colonial power, France, via a revolution of slaves, becoming the first black, sovereign nation in the world and the first nation to ban slavery.

However, an "independence debt" of $21 billion, enforced by France and nations that feared similar revolutions, precluded Haiti from joining the world economy and left a lasting, colossal impact on Haiti's growth and development.

For over a century, 80% of Haiti's annual revenue went towards serving this debt at the expense of investments in education, healthcare, and infrastructure. Today, Haiti is the poorest nation in the Western Hemisphere (World Bank 2019), and Haiti's history of racial exclusion has manifested itself in insufficient systems, unable to meet the holistic needs of children and families. A turbulent history and harsh poverty, exacerbated by man-made and natural disasters, mean that Haitian children face severe challenges growing up in a politically unstable, resource-stark, and high-stress context (World Bank, 2019). Haiti ranks 169th of 189 countries according to the Human Development Index. Over half of the population (6 million) lives below the poverty line ­(less than $2.41 per day), and 20% (2.5 million) live below the extreme poverty line ($1.23 per day) (World Bank, 2020). Consequently, 22% of children are stunted (UNICEF, 2016) and enter school malnourished. Roughly two-thirds of Haitian children experience violence from a caregiver or authority figure during childhood (Flynn-O'Brien et al., 2016).

The governmental structures that help struggling families meet their children's educational, nutritional, and health needs are absent in Haiti, and children lack systems that enable healthy, whole child development. While private institutions, such as the Catholic system, have filled public education gaps, access and quality remain low (World Bank, 2007). Schools are chronically underfunded and resource scarce, while tuition fees act as a barrier for many families, leading to 50% of students not attending school regularly (Crouch, 2005). Nearly 80% of teachers lack basic training, administrative support, and professional development opportunities to deliver quality educational experiences (Guzman et al., 2020). A deficiency of first-language reading instruction in early grades and minimal early childhood development programming contribute to 49% percent of Haitian students not being able to read a single word when they enter the third grade (EdData, 2014) and an adult literacy rate of only 50%. Lessons marked by rote memorization and an authoritarian, teacher-centered approach combine to create a learning atmosphere that is not conducive to student engagement or whole child skill development (GC-DWC, 2018). Frequent school closures due to socio-political unrest consistently diminish and interfere with student progress, particularly since distance learning options are inexistent (Boothby et al., 2021).

In response to these challenges, Notre Dame has been working in Haiti and collaborating with local stakeholders to understand the realities that Haitian communities face and to develop effective, sustainable solutions.

Through this work, Notre Dame identified the Catholic Church as one of Haiti's most functional systems and has cultivated an effective relationship with Church leaders to address inequities at a systems level. The Church's presence and influence at national, departmental, and community levels as well as its responsibility for 20% of education provision in Haiti puts it in a strategic position to implement broad and sustainable change.

Identifying low-literacy as a salient issue for Haitian students, Notre Dame developed and implemented the most successful mother-tongue literacy program in Haiti to-date within its network of parish schools. Given the program's success, it has been scaled throughout the country and adopted by a number of other school systems.

While Notre Dame's literacy program is highly-successful and has led to significant gains in the Early Grade Reading Assessment, the team noticed that students remain woefully underprepared to receive the in-school intervention, lacking key foundational and social and emotional skills.

Working with the Catholic Church, GC-DWC Haiti shared global insights and evidence on the impact of a whole child approach to education that equally values all aspects of a child's development: social, emotional, physical, intellectual, spiritual, and creative.

GC-DWC Haiti then collaborated with the Church and local parish leaders to identify areas where a whole child approach to education could be embedded within the existing system.

This collaboration led to the creation of the L3 system where holistic interventions are embedded at the networks most central to the Haitian child: the home (lakay), the school (lekòl), and the church (legliz). Examples of holistic, innovative interventions include integration of positive parenting messages into baptismal courses and a robust social and emotional learning program embedded in the classroom environment. Learn more about the L3 system on the GC-DWC Haiti homepage.