The Alexandria Book Award
Advancing the literacy outcomes and faith/character formation of all students
About the Alexandria Award
The Alexandria Award recognizes a middle grade or young adult novel written within the past 5 years that advances Gospel values and tenets of Catholic Social Teaching while portraying adolescents who espouse St. Catherine of Alexandria's brave and tenacious character.  The award recognizes the powerful value literature can have in classrooms across the country, particularly Catholic middle and high school classrooms, for inspiring belief and a virtuous life and addressing injustices in the world.
The Alexandria Award is named in honor of Saint Catherine, an adolescent Christian who used her position and education to skillfully defend and promote her faith while standing up against injustice, during a vibrant but volatile time of ancient history.  The award recognizes her youth, her enthusiasm for education, and her home – famed location of the great library – as an early site of learning, culture, and literature.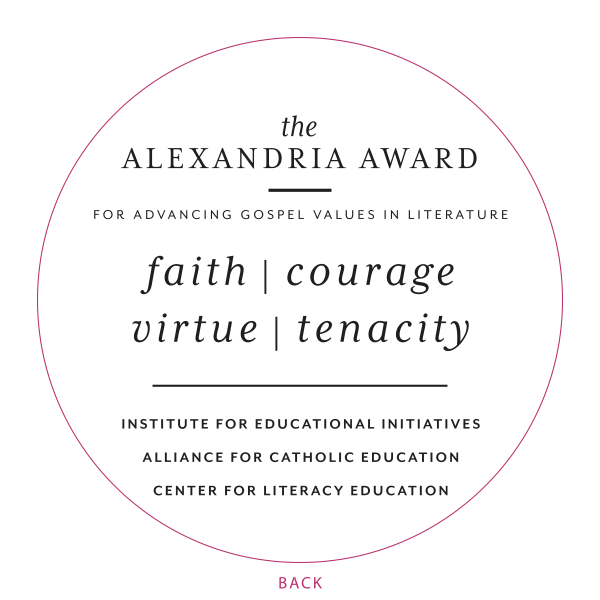 More about the Alexandria Award
Our committee members select books based on the seven themes of Catholic Social Teaching because we believe we have an individual and collective responsibility to help build a just society and model these values for all young people. The seven themes of Catholic Social Teaching are: 
1. Life and Dignity of the Human Person 
2. Call to Family, Community, and Participation 
3. Rights and Responsibilities 
4. Option for the Poor and Vulnerable
5. The Dignity of Work and the Rights of Workers
6. Solidarity 
7. Care for God's Creation 
Yes! Several of the books under consideration are published by leading publishers in children's and Young Adult literature including Simon & Schuster, Penguin Random House, and Candlewick Press. Several books have already been recognized by other book award committees including the National Book Award and Newbery Award. Several of the books under consideration have appeared on lists including top books addressing "Children's Homelessness & Poverty Books" and Publishers Weekly Best Books of the Year. While we use the seven themes of Catholic Social Teaching to select books, we believe these principles are ones that teachers, families, and students would agree are critical to building a more just and humane world. 
Mid-November to early-December to align with the feast day of Saint Catherine of Alexandria. 
The awarded book will be gifted to Catholic schools across the country and accompanied by a curriculum insert featuring suggested classroom learning goals, activities, and discussion guides for thinking about the book through a lens of faith and Catholic Social Teaching. The awarded books will be put directly into the hands of students, thereby removing a barrier of inequity that some schools, educators, and parents may face in supporting children's faith formation and literacy development.
Inaugural Winner: When Stars Are Scattered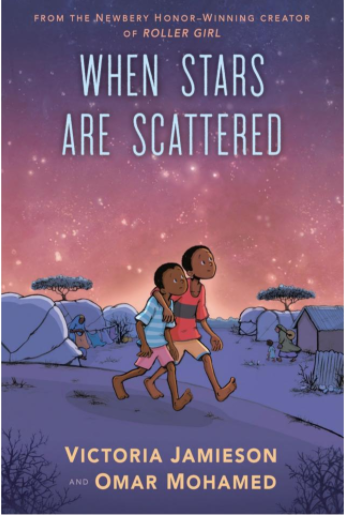 "When Stars are Scattered," written and illustrated by Jamieson, tells the story of Omar Mohamed and his younger brother, Hassan, as they grow up as Somali refugees in a camp in Kenya.
"There is so much about this book that makes it the obvious choice as the inaugural recipient of the Alexandria Award," said Michael Macaluso, the founder of the award and an assistant teaching professor in the Center for Literacy Education and the Alliance for Catholic Education's Teaching Fellows program. "From the potential to have classroom conversations about immigration and the dignity of all people — especially refugees — to the layers of faith, hope and love that drive the plot, "When Stars Are Scattered" speaks to everyone. It compels readers to feel, act, love, give thanks and trust in God, and the graphic nature of the book offers a more intimate window into the life and experiences of someone who could be our neighbor."
Read more     Download the Curriculum Supplement    Purchase a Copy