Supporting Young Writers in the Home // Part 2 of 2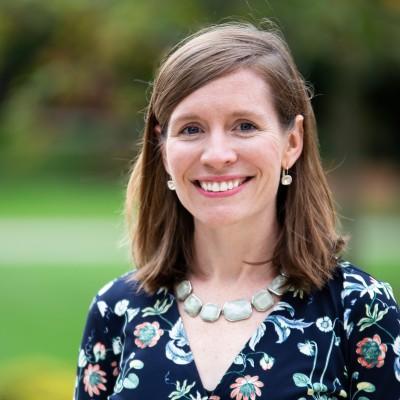 In Part 2 of Dr. Kati Macaluso's blog post on supporting writers in the home, she continues the work she began in Part 1. In Part 1, Dr. Macaluso explained how she sees her own children emerging as writers, and she offered strategies for how all parents can foster their children's natural inclination to make sense of the world through writing. In this post, Dr. Macaluso shares more methods parents can use to encourage their children onto authorship.
---
3) Read Like a Writer
Reading and writing are connected, yet distinctive activities.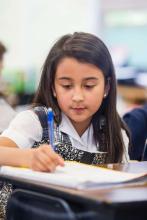 Good readers are not always good writers, and weaker writers are not always weak readers. To capitalize on what has the potential to be a mutually supportive relationship between reading and writing requires attention, from time to time, to a different kind of reading: reading like a writer. Readers can acquire insights into writing by thinking about why or how a writer used a particular piece of punctuation or sentence structure. Jeff Anderson and Whitney La Rocca, co-authors of Patterns of Power, call this the "invitation to notice."
For my kindergartener who still has much to learn about the conventions of punctuation and capitalization, my husband and I make an effort to point to the capital letters at the beginning of sentences and the beginning of the character's names while reading to him at night. For our third grader, who still has a tendency to string a page worth of sentences together under the guise of a single sentence, we try to read aloud to him, all the while pointing out the rhythm of the sentences and the lengthier punctuation-driven pauses between complete ideas.
4) Make the Media Your Ally in Writing Development
While there might be a tendency to think of writing and media as antithetical to one another, Anne Haas Dyson reminds parents that "contemporary childhoods are mediated in large part by the media, and it can be very informative for kids." Children are increasingly making use of images, sounds, and text to compose in a variety of modes and media via blogs, Instagram, YouTube, etc. Paying attention to what children are watching and conceiving of the media as an outlet for productive talk and authentic writing scenarios can strengthen children's writing development.
My husband and sons are avid Cubs fans, and though I am not conditioned to conceive of televised Cubs games as playing a role in my five-year-old's writing development, I have witnessed my son leverage those game watches as resources in his own writing. Having learned, by observing the lettering on players' jerseys, that C-u-b-s corresponded to his favorite baseball team, and that the spelling of his favorite player's names is available on the back of each player's jersey, Michael, the kindergartener, has added new words to his spelling and vocabulary repertoire as well as a strategy for his own writing that he now calls "reading the room." He now uses that strategy in and across different writing scenarios. For example, in school, he will look at the list of birthdays posted on the wall of his classroom to lift the spelling of a friend's name that he wants to include in his response to a writing prompt.
The stories and material in the media to which children are inevitably exposed in this day and age can also serve as a springboard of ideas and authentic scenarios for writing. Recently, social media buzz on the possibility of Kris Bryant being traded from the Cubs inspired my five-year-old and eight-year-old to compose letters to the Cubs about why they should advocate for keeping Bryant on the team. I supplied the conversation starter, envelopes, and paper. And then I just quietly moved to the side and watched what my children could do when writing about something that really mattered to them.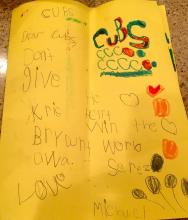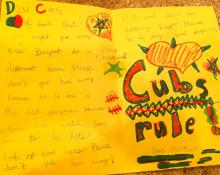 5) Take Advantage of Opportunities for Authentic Writing Tasks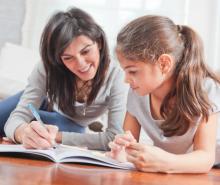 Writing is authentic, in that it accomplishes real work in the real world. As parents and guardians, we have an opportunity to preserve that authenticity by inviting our children to participate in meaningful writing activities. On an average day, we engage in any number of writing tasks–grocery lists, to-do lists, emails to colleagues and family members, text messages to parents and spouses, birthday cards to friends and siblings.  
Rather than writing our grocery lists ourselves, we can put the onus on our children to do so. Instead of buying a pre-made birthday card, we can invite our children to create their own. When we discover it's too late in the evening to call grandparents, we might consider spending 5 minutes with our children composing an email to them instead. In anticipation of a guest's arrival, break out the markers and paper, and watch what children can do to craft a welcome sign. Then watch their faces as you display their sign. When you have photos developed, invite your children to create a memory book in which they create a caption for each photo. The act of writing captions gives children practice in some of the essential features of writing: directionality (moving in linear fashion from left to right), intentionality (having a clear purpose in writing), and matching one's message to the particular writing task at hand.
---
As parents and guardians, we are our children's first and primary teachers.  So, crack open the toy chest. Get the conversations about your children's experiences and interests flowing. Scatter crayons, pencils, markers, and paper throughout the house.  Put sidewalk chalk on the driveway. Invite them to not only read, but notice.  And then simply get out of the way, and watch them work their magic.  Because they are writers after all, even if they're still–like all of us–in the process of becoming.
Happy Reading,
Kati
*photo credit for parent with child: Today's Parent