Lessons in Literacy // Navigating the Stories of Black History with "Black Panther"
For this installment of the Lessons in Literacy series, the CLE is pleased to spotlight an incredible educator, Daniel Hodge. Mr. Hodge teaches English Language Arts at Saint Anne School in Santa Ana, California. He graduated from Gonzaga University and is serving his second year as an ACE Teaching Fellow. He is a candidate for a Master's in Education from the University of Notre Dame.
Teachers will periodically contribute to the Lessons in Literacy series on the CLE blog. Through this series, teachers will periodically share their classroom successes and innovative ideas. 

*Caution, this post contains spoilers!
As Black History Month approaches, educators in all content areas must begin to reckon with the duty they have to teach the Black experience—not just in February, but every month. How can we widen the lenses of our classroom to hear the voices of those who are so often underrepresented or misrepresented?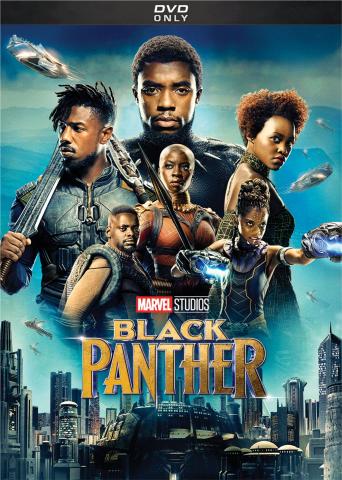 In the era of Culturally Sustaining Pedagogy, many teachers do an estimable job of addressing this issue by expanding the choices students have when engaging with various stories. Thanks to campaigns like #WeNeedDiverseBooks and speeches like Chimamanda Adichie's TED Talk, "The Power of a Single Story," classroom libraries have generally expanded to include literature from more diverse perspectives and various media like podcasts and digital albums that tell stories with words, music, and images. To help teachers in this journey, I want to invite educators to use a multi-medium, story-driven unit centered around Ryan Coogler's blockbuster Marvel film, "Black Panther," that honors brilliant Black voices, art, and storytelling throughout our nation's history.
Wakanda Forever
Why should students be asked to navigate most of Black History just to watch a film about Marvel's superhero, Black Panther? Because, y'all, Ryan Coogler requires his viewers to join him on this exact journey—to critically examine what it means to be Black in America. The "villain" of the story, Killmonger, is a young Black man from Oakland, CA who, like his father, a prince of Wakanda, is deeply disturbed by the violence being done to black bodies around the globe. Killmonger forces viewers to reckon with a history that has caused generations of violence in Urban Black settings. He has one question for T'Challa, King of Wakanda, the Black Panther: "Where has Wakanda been for the African peoples being murdered outside of its city walls?" In order for my students to understand the weight of this question, they needed a broader knowledge of Black history and modern issues surrounding race.
I hope you'll take advantage of this resource as it seeks to interrogate or deconstruct the ways in which classrooms have taught the Black experience in America. When you look past the whitewashed murals of Martin Luther King Jr., you will find a considerably brilliant underbelly of Black Artists and Storytellers whose work will engage, interest, and hopefully inspire your students to find power in their own voices. Below I detail a general overview of the lessons I taught this within this unit. I shared these activities with 6th and 7th graders, so If you attempt to recreate this unit, I challenge you to take my lesson ideas and create content that is most fruitful for your students at any grade level.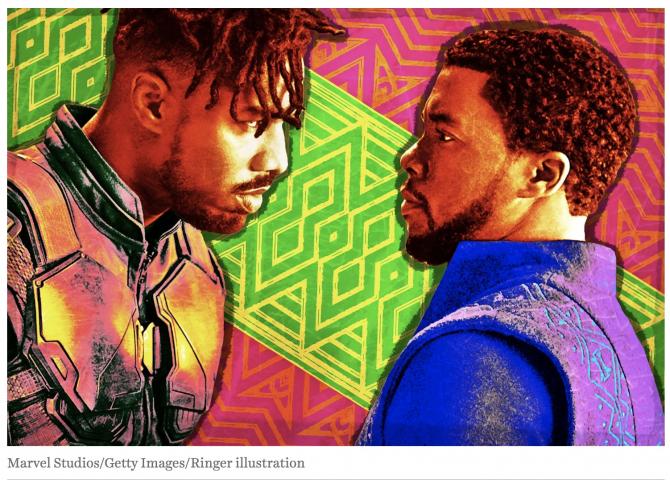 Lesson 1. Engaging Your Students
AH! Yes, the trick to engaging students in any unit: activating your student's prior knowledge. On the opening day of our Black Panther Unit (after already sending home permission slips for the violence and explicit language we would encounter in the film and other activities) my students sat down to watch a 5-minute slideshow accompanied by music and various audio. Though they didn't know this from the start, the slideshow was a brief portrayal of Black History in America. It began with the glory of African empires—a show of colorful murals plastered with thriving civilizations all throughout Africa. As the students watched, they witnessed the evolution of Blackness in its visual form—from kings and queens to colonialism and slavery, to Jim Crow and mass incarceration, to the Harlem Renaissance and 90s hip hop. The slideshow concluded with the Ferguson Riots, Charlottesville, and a display of modern Black artists like Kendrick Lamar and Ava Duvernay.
In a classroom with predominantly Latino/a students, it didn't take long for them to link our classroom discussions on the class divide in Mexico and the treatment of migrant workers in California to many of the images they were seeing on screen. Glory and pain, intermixed into one. This opening discussion, linking the two struggles, was life-giving for me as I watched 6th graders begin to grapple with key ideas of intersectional thought.
Lesson 2. Africa Before Colonialism
In each lesson of this unit, there is a need to fluidly work through historical topics while still urging students to engage with literary texts and media. Through film, historical fiction, and informative texts, students learned about the primary empires on the African continent: the Mali Empire, the Ghanian Empire, and the Benin Empire. As a teacher, you have the power to shape a student's perspective of various cultures. It is incredibly important for educators to begin the undoing of the hundreds of years of dehumanization by telling the truth about the formidable ancestry of the African peoples. Ignoring the wealth and power that characterized African civilizations for generations simply reinforces the narratives that lead us to believe the African Diaspora is somehow inherently less-than.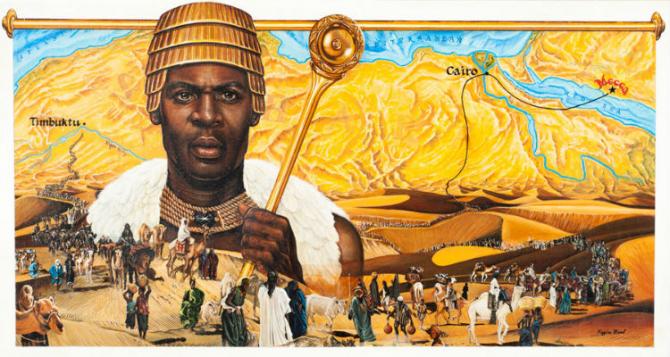 Lesson 3. The Lasting Effects of Colonialism
I won't lie and say this is an easy unit to navigate because students and teachers alike are asked to grapple with difficult images and topics that define much of the Black experience in America. In this lesson, students participate in a digital gallery walk with their reading groups. There are four parts to this gallery walk: (1) an extended clip from Alex Haley's, "Roots," (2) a short excerpt from a slave narrative, (3) a slam poem about violence against Black bodies by Dominique Christina and (4) an interview by James Baldwin that explains the use of fear tactics and dehumanization in chattel slavery. Though this is often the heaviest portion of the unit, I've found that students become emotionally invested into each phase of this gallery walk, attempting to carry the weight that suffocated many Black Americans throughout this time period. One student, I remember specifically, told me that she had felt "cheated" by her past teachers because they, "never cared enough to tell them the truth, and that really hurts."
Lesson 4. Abolishing the 13th Amendment
The opening day of this lesson again asks students to grapple with a variety of literary media all with the same theme: Is the 13th Amendment truly abolished? Before viewing Ava Duvernay's documentary "13th," the class begins by interrogating a number of lyrics from hip hop songs that provide commentary on mass incarceration and the War on Drugs. I ask my students: What do these lyrics mean? What is the artist trying to argue? Following this discussion, the class participates in a jigsaw reading where one half of the class reads an excerpt from Afeni Shakur's memoir about police brutality and the other half of the class reads a personal narrative written by a slave on her experience in a plantation. By the end of the lesson, the goal is to get students to compare and contrast the experiences of these Black women who lived decades apart and answer the ultimate question: "Has slavery in the United States truly been abolished?"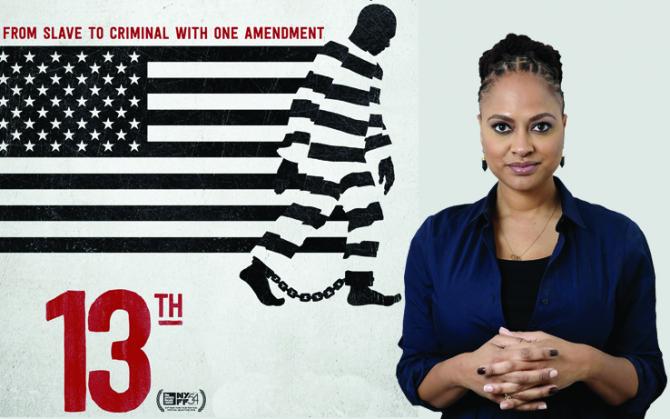 Lesson 5. Moving Beyond History
The final half of this unit is where students are really challenged to engage with a variety of literary texts and media. From the Harlem Renaissance to the Civil Rights Movement, 90s Hip Hop and Contemporary Black Art, there is a plethora of content to choose from that will help your students better gauge the Black experience in America. While studying the Harlem Renaissance, students learn about soul and jazz music, urban poetry, and some of the first Black literature recognized by American scholars. This is where my students get their first look at Black Excellence in the entertainment industry. We discuss, at length, the revolutionary men and women who defined this time period. My students were tasked with recreating poems from the civil rights movement and turning them into slam poetry performances; I asked them to explain the intricacies of hip hop in the 90s and how it stood as a voice for the Black Experience in mainstream media; they looked at powerful art installations commentating on blackface, cultural appropriation,  and modern forms of slavery. Throughout this portion of the unit, I wanted to put students face to face with modern Black Art that continues to portray the beauty and struggle of being Black in America. Here's a list of contemporary names educators might have their students study: Kara Walker, Kendrick Lamar, J Cole, Jamila Woods, Solange Knowles, Ephraim Nehemiah, Rudy Francisco, Kehinde Wiley, and Dominique Christina (this list could literally take up a whole blog post, so, I encourage you to do your OWN research).
Lesson 6. Our Final Discussion
After spending three weeks focused on Black History and Art, you can imagine I had a very split class during our final debate of the unit. I asked them: Who is the true hero of "Black Panther"? Killmonger or T'Challa? In order to make well-supported claims about the characters in the movie, my students needed a multifaceted understanding of Black history we had been working towards in the unit. Themes from the movie brought about the fruitful discussion regarding colonialism, protecting riches once stolen, Afro-Futurism, and Black feminism. Students argued about Black feminism in the Marvel Universe: Is Princess Yuri the smartest person in a universe where Tony Stark exists? Are the Dora Milaje, the Wakanda king's all-female military, the strongest fighters in the world? Along with this, we worked through the various African cultural representations we saw in the film and they discussed Afrofuturism as the reimagining of a future filled with arts, science, and technology seen through a Black lens.
The Legend of Killmonger
As Killmonger is dying, he asks T'Challa for one final request. His  epic last words capture everything discussed above: "Bury me in the ocean, with my ancestors that jumped from the ships, because they knew death was better than bondage." Killmonger is still asking the question, have we yet to be freed from our bondage (*cough* *cough* the 13th amendment *cough*)? This is the question that "Black Panther" begs, and this is the question that often remains when we explore Black history. I promise you, with the proper scaffolding and support, 6th and 7th Graders are ready to grapple with and think critically about these complex issues. It is our duty as educators to make space in our classrooms for the stories of those people who are too often pushed to the margins.   
Wakanda Forever,
Daniel