Guided Reading and Centers // Meeting Individual Needs in the Elementary Classroom
The main purpose of guided reading is to provide instruction specific to a child's literacy level. Scholastic defines guided reading as "an instructional approach that involves a teacher working with a small group of students who demonstrate similar reading behaviors and can read similar levels of texts." This individualized instruction helps readers to hone in on their particular strengths and difficulties and to learn more about themselves as readers. Students should be able to read the selected leveled books with approximately 90% accuracy—this means that they can understand and enjoy the text while still being challenged with the teacher's guidance and support.
During guided reading, students are learning about when and how to use strategies to decode and comprehend the text. They may also encounter new concepts or ideas that require additional background knowledge and discussion with the help of the teacher and peers.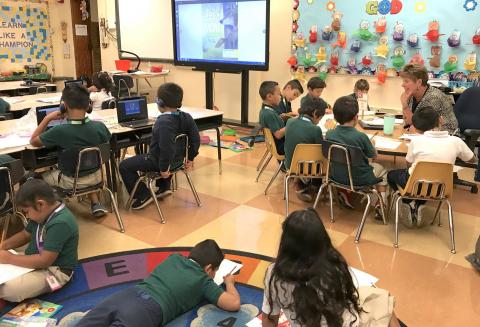 Determining students' reading levels and reading behaviors requires consistent assessment which can be done formally with a running record (or similar assessment) and by observing students during guided reading instructional time. Teachers may be asking themselves: Which strategies are students employing to improve their understanding? What is the nature of their miscues? Are there certain strategies they are not using that would improve their comprehension? Are the leveled readers too easy or too difficult and would they benefit from working with another guided reading group (flexible grouping)? These are all questions to consider when organizing and working with guided reading groups.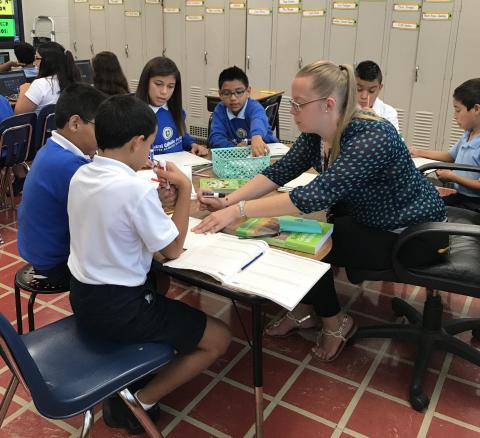 Hopefully, guided reading is a key component of your comprehensive literacy program. Typically, teachers do guided reading with a small group while other students are working at other stations or centers throughout the room. We are aware that some teachers are hesitant to include guided reading because they are concerned about the learning time for students who are not participating in guided reading.
How can we ensure that all students are learning and engaged in what may be up to 45 minutes of independent and/or small group work time? Below are suggestions to manage centers while focusing on the students in the guided reading groups.  
Centers // Begin modest! An oft-stated concern of teachers is classroom management. We want to know that the students who are working independently in centers are productive and accountable. If the teacher is meeting with three groups (15 - 20 minutes each), we definitely want to make sure the students outside of the guided reading groups are making steady and significant growth in their literacy skills! However, before trying to manage 4 - 5 complex centers, we suggest starting simple to establish routines and expectations. It's best to start with high leverage practices such as independent reading and writing since kids often already know how to do these independently. The centers should focus on literacy and do not need to be complicated. Below are some suggestions on how to get started and how to create balance with the four essential literacy skills (reading, writing, speaking, listening):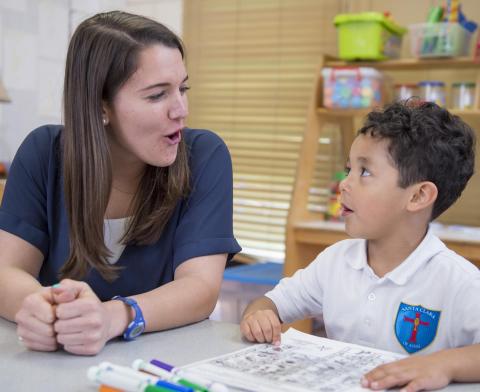 Week 1:
Pull one group for guided reading each day
Other students have 15 - 20 minutes of independent reading time
Week 2:
Pull two groups for guided reading each day
Center 1: independent reading (reading)
Center 2: journal, response to reading (writing)
Week 3:
Pull three groups for guided reading each day
Center 1: independent reading (reading)
Center 2: journal; response to reading (writing)
Center 3: Readers Theatre scripts (can be leveled per group: reading, listening, speaking)
Week 4: Increasing Options
One way to increase accountability is to provide students with a chart with each center included. It might look like a list or a bingo board. Students can have some choice (optional centers) while some centers are required each week.
Pull three groups for guided reading each day
Center 1: independent or paired reading (reading, speaking, listening)
Center 2: journal, story writing, scriptwriting for Readers Theatre, response to literature (writing)
Center 3: Readers Theatre (reading, listening, speaking)
Center 4: vocabulary, phonics, spelling (writing, reading)
Center 5: technology: literacy-focused websites such as Scholastic (story starter), Scratch (free online site where students can learn to program interactive digital  stories, video games and animations; https://scratch.mit.edu)
Center 6: Listening center with audiobooks and headphones. This can then be tied to Center 2 (reader response), Center 3 (transform the story into a script to be included in the Readers Theatre center), or Center 5 (create a game and animation based on the audiobook)
As the school year progresses, it is possible to rotate centers every other week or create a center to reinforce concepts from various content areas. Perhaps your class went on a field trip or had a classroom visitor—so one of the centers can be a friendly thank you letter. The letter can then be used as a draft which students can continue to work on during writers' workshop. Students may not finish the activity for each center and that's fine as long as they are making steady growth, are fully engaged and productive, and working up to their potential. Centers and guided reading allow for differentiation which is critical for meeting the literacy needs of every child.
Happy Reading,
Ernest & Jodene