10 Minutes of Reading a Night Can Change Your Child's Life
The reading research is unequivocal. The more a child reads the better he or she will be at reading. It is as simple as that. Children who read more enjoy reading; they read to challenge themselves, to satisfy their curiosities, and to experience unknown lands. Reading is an adventure and pure joy.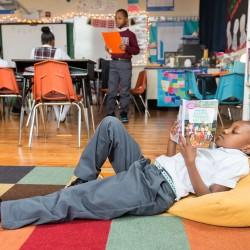 Kids who read regularly form identities as readers and they generally have a better relationship with the books (and other genres) that they read. Inexperienced readers almost unilaterally identify reading as a chore, something they have to do to please demanding parents or teachers. And, guess what? They do as little as possible. It turns out that kids who dislike reading may read less than 2 minutes a night on their own while kids who enjoy reading may read for 10-20 minutes a night, and that makes a huge difference. On average, reading 10 minutes a night equates to roughly 1 million more words a year! So a kid who reads an additional 20 minutes a night will read 20 million more words between kindergarten and high school than a kid who hates reading.
As we see it, our biggest challenges are getting kids to love reading, letting them choose books that they love, and exposing them to reading mentors at home, at school, and in the media; however, it is worthwhile to overcome these challenges, all to get them to the threshold of 10 minutes a night. For thirty years, researchers have converged on this number. A child who reads for pleasure for 10 minutes a night (or in class!) will just have a different literate life. It really is that simple. We should be shouting this from the rooftops!
We can tell all of our children that they can and should see themselves as super readers. We can have student choice and independent reading in our classrooms. We can have amazing multicultural classroom libraries. Parents can turn off all electronics and have family reading time for at least 10 minutes a night. Parents can get library cards and make regular trips to the libraries where they let their kids pick the books they want to read.
We can do this! We can inspire a literate life in every child and, when we do this, we will change educational trajectories, communities, and the very world in which we live and love.
Happy Reading,
Ernest and Jodene Morrell