Anna Haskins participates in ND Panel on Affirmative Action
In July 2023, Sociology/CREO Associate Professor Anna Haskins participated in a panel about the University of Notre Dame and Affirmative Action. This article was originally posted by Margaret Fasmoe '85 for Notre Dame Magazine.
---
Where do we go from here?
Notre Dame administrators are considering that question in the aftermath of the June 29 U.S. Supreme Court ruling that struck down affirmative action in college admissions. The ruling means race cannot be a factor in admission decisions and requires institutions to look for new ways to achieve diversity in their student bodies.
Notre Dame leaders have repeatedly stated the University's commitment to diversity, equity and inclusion. A 2021 Notre Dame Board of Trustees' Task Force report, "Advancing Diversity, Equity and Inclusion at Notre Dame," provided a charge for progress, including increasing the number of underrepresented minority students to better reflect the growing diversity of the nation and the global Catholic Church.
Notre Dame's undergraduate student body in fall 2021 was 66 percent white, 12 percent Hispanic/Latino, 6 percent multiracial, 5 percent Asian and 4 percent Black/African American.
University President Rev. John Jenkins, CSC., '76, '78M.A., issued a statement in response to the Supreme Court's decision: "At Notre Dame, our Catholic mission compels us to build a class reflecting the diversity of experiences and gifts of the human family. We undertake a comprehensive assessment of applicants, admit talented students with interests and aspirations consonant with our mission, and provide opportunities for a wide range of young people. These commitments are as meaningful today at Notre Dame as they were yesterday. We will study the Supreme Court's decision and consider any implications for our admissions process as we strive to fulfill our distinctive mission."
Notre Dame was among 57 Catholic colleges and universities that in 2022 filed an amicus brief with the Supreme Court in support of affirmative action in college admissions as challenged under Students for Fair Admissions, Inc. v. President and Fellows of Harvard College and a related lawsuit. Achieving racial diversity in admissions, the brief argued, is "inextricably intertwined" with the institutions' "religious foundations."
The University's commitment was a theme running through a July 5 Zoom panel discussion titled "Affirmative Action: Reflections on the Supreme Court and Educational Opportunity," hosted by Notre Dame's Klau Institute for Civil and Human Rights, the Initiative on Race and Resilience, the Institute for Advanced Studies, and the Office of Institutional Transformation.
The event was moderated by Eve Kelly, associate director for strategic initiatives and senior advisor in the Office of Institutional Transformation.
Following are selections from the discussion.
Jennifer Mason McAward '94, director of the Klau Institute for Civil and Human Rights and an associate professor of law:
"One line that got a lot of attention in the press was a caveat that the majority gave, and I'll just read it: 'Nothing in this opinion should be construed as prohibiting universities from considering an applicant's discussion of how race affected his or her life, be it through discrimination, inspiration or otherwise.'
"The court is essentially saying: 'Look, we can't control what an applicant tells the university, but the university itself needs to make sure that it uses that racial information in a very limited, permissible way to assess the student's own unique abilities to contribute to the university.'
"The bottom line is that the majority concluded that all college applicants must be treated as individuals without cognizance of their race. Universities cannot use an applicant's race in any way to determine admissions."
"The U.S. bishops have made it clear that structural racism is a real thing and is a sinful thing, and is something that Catholics need to be committed to dismantling. It seems to me that — in a two-year span, where Catholics rejoiced with the Dobbs decision (eliminating the constitutional right to abortion) — I would hope that Catholics would also view this Student for Fair Admissions (v. Harvard) decision as a challenge to commit ourselves as a Catholic community to doing the work of anti-racism."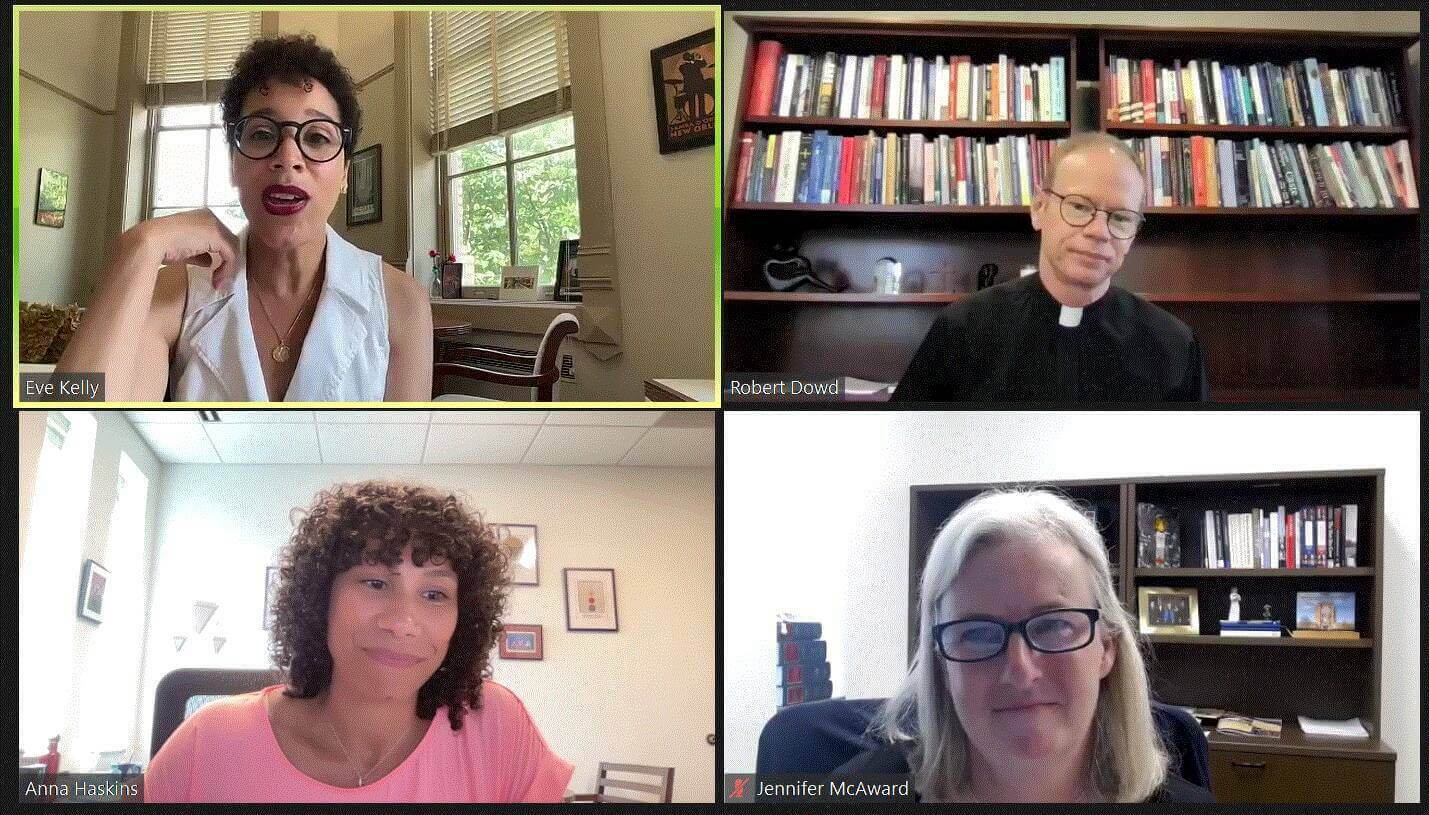 Anna Haskins, associate director of the Initiative on Race and Resilience, and associate professor of sociology:
"This has major implications that could really change the face of higher education. And that links very much to what is offered in terms of privileges, access, resources and mobility in the United States."
She notes that, in the United States, higher education is a major driver of economic mobility, social success, happiness and health. Universities provide opportunities for integration as well as social exclusion.
On the possibility of eliminating legacy admissions (giving preference to the children of alumni) at top universities in order to increase diversity: "Eliminating legacy decisions is going to be hard at many selective universities, given often who is on trustee boards. But I think there are ways in which Notre Dame itself can really counteract or counterbalance some of the existing preferential treatment policies that were not eliminated in this Supreme Court ruling, in ways in which we really think about preferential treatment to the poor."
Rev. Robert Dowd, CSC, '87, vice president and associate provost for interdisciplinary initiatives, and associate professor of political science:
"Diversity is important for realizing our Catholic mission because it's essential with regard to our progress towards the truth and accurate understanding of reality. And such progress is hampered, if not impossible, if we remain in our own comfort zones, surrounded only by people whose experiences are similar to our own and whose ideas are basically the same as ours."
"If Notre Dame is to more effectively serve the Catholic Church and help the Church to serve society, we've got to do our best to educate a broad spectrum of the church and not just one demographic. The student body needs to reflect in a significant way the rich diversity of the Catholic Church, the most global and multicultural institution in the world."
"It would be good for Notre Dame to ramp up efforts to encourage more students from historically underrepresented minorities to apply to Notre Dame, especially from — but not only from — Catholic high schools. We need to do all that we can to get such students to envision Notre Dame as a place where they can thrive. We also need to redouble efforts to ensure that students from historically underrepresented minorities thrive once they get here."
How making minority students feel welcome on campus is a shared responsibility: "It's not just the work of the university administrators, executive leadership of the university. It's our work, our collective work. It's our responsibility, that is all of us: faculty members, staff, students, alumni and friends of this university — to make sure that Notre Dame is a truly inclusive environment. This is called for in our Catholic mission."
---
View the article from the South Bend Tribune with a membership.