TutorND joins national network to help students, strengthen teacher pipeline
What started as a local collaboration that combined research and education practice at the University of Notre Dame has turned into a national project that provides high-quality support for children – and inspiration for future teachers.
Each school day, students in South Bend and at schools around the country served by ACE Teaching Fellows work one-on-one or in small groups with Notre Dame tutors as part of TutorND. Now those sessions will be part of a network dedicated to using tutoring to accelerate student learning and strengthen the teacher pipeline.
"Our primary goal is to increase access to high quality tutoring," said Nicole McNeil, a psychology professor and the director of the Cognition, Learning, and Development (CLAD) Lab. "It's also a way to inspire future leaders in education."
TutorND has joined the Aspiring Teachers as Tutors Network (ATTN), a national collaborative of high-quality tutoring initiatives facilitated by the non-profit organization Deans for Impact.
TutorND is one of 23 programs in the network, which Deans for Impact formed to strengthen the instructional skills of aspiring teachers by having them serve as high-impact tutors in PK-12 schools. 
"We're trying to help aspiring teachers be ready to teach by learning about cognitive science and putting it into practice," McNeil said. "If they choose to become teachers, they will be better prepared."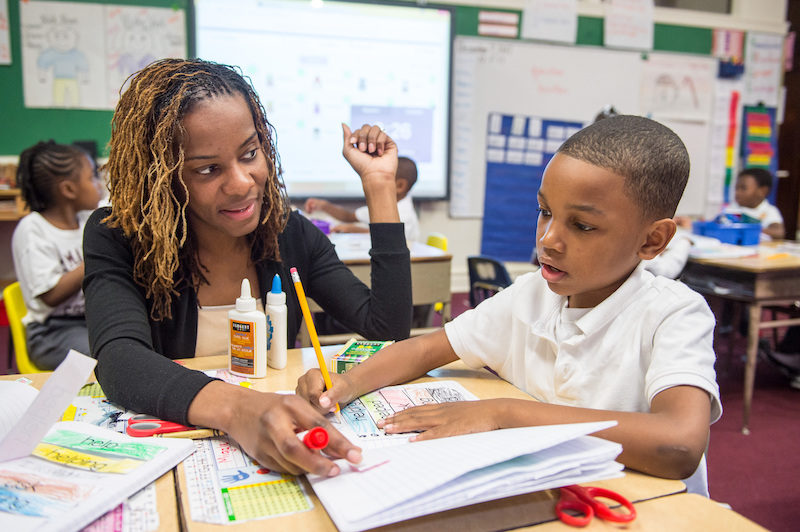 Tutor ND started three years ago during the pandemic to provide virtual support for children of Notre Dame employees and has since expanded to include in-person and virtual tutoring for preschool students in the Elkhart and St. Joseph Counties Head Start Consortium, children in Boys and Girls Club of St. Joseph County, and students from the South Bend Community School Corporation and schools served by ACE Teaching Fellows.
Before the pandemic, McNeil collaborated with local schools as part of her community-based cognitive science class and her research in the CLAD Lab. Researchers in the lab study cognitive development and how children learn to become mathematical thinkers and skilled readers. McNeil believes that tutoring prepares cognitive scientists to ask better questions. "When you work as a tutor, you see learning in a new way, and you start to think about the feasibility and workability of things from a practitioner's perspective," she said. 
TutorND now works with more than 300 children, and similar to McNeil's earlier work, relies on instructional materials and methods that have been shown through rigorous research to hold promise for improving student outcomes.
Tutors receive training on how to tutor, how to structure their sessions, and how to manage their time. "It's a high quality practicum experience," McNeil said. "It prepares you before you get thrown into a classroom of 30 students. If you've never taught one-on-one or two-on-one, that's a huge leap."
TutorND's tutors include Notre Dame undergraduates that major in business, math, and neuroscience, and many also study in the Education, Schooling, and Society program. Whether they become teachers or not, they can learn to advocate for equitable education for all, McNeil said.
The experience has drawn some Notre Dame students to apply to ACE Teaching Fellows, a two-year, formational program that combines graduate coursework, full-time teaching, community living, and spiritual growth as participants earn a master's degree in education. 
"Tutor ND was pivotal to choosing to teach, and how I treat my students," said Mary Claire Lewis, a former tutor who now teaches fifth grade at Blessed Virgin Mary School in Darby, Pennsylvania. "I couldn't help but want to do it on a greater scale."
McNeil said that when TutorND began working with ACE schools, the goal was to address Covid-related learning loss. As the program did that, it had an added benefit. 
"Tutors who enter teaching programs like the ACE Teaching Fellows Program will have a really excellent practicum experience before they even start," she said. "They gain knowledge of high quality instructional materials and see what it's like to go into a high-needs classroom." 
That aligns with the mission of Deans for Impact, which is committed to ensuring that every child is taught by a well-prepared teacher.
"We've had a ton of tutors who never thought of being a teacher," McNeil said. "But through watching a student grow, seeing them learn to read before their eyes, it got them interested."
"I did not anticipate how often I would use my experiences tutoring younger students in math to inform how I teach my high school students," said Kate Morse, who worked with TutorND and now teaches math at Providence Cristo Rey High School in Indianapolis. "Developing a first grader's addition fluency, a fourth grader's understanding of the equal sign, and an eighth grader's ability to solve an algebraic equation all led up to the work I do now."